A concern shared by many
Apple crops cover large areas of the Adige and Isarco valleys - around ten percent of the European apple harvest is grown here. But what about biodiversity in the apple orchards? A number of projects and measures promote flora and fauna in the South Tyrolean and Trentino apple orchards.
The diversity of different life in a particular landscape area is of great importance - also for the orchard.
Unimaginable if there were no bees or other pollinators;
Flowering strips are a habitat for beneficial insects such as ladybirds, ichneumon wasps, lacewings, etc;
A high number of soil animals and organisms is a guarantee for healthy orchard soils.
The list could go on.
The fact is: promoting biodiversity is important to the farmers themselves. It is primarily they who implement concrete measures to promote biodiversity. These can be flowering sowings, but also the creation of compensation areas or the increased use of organic fertiliser to increase the humus content. In many places, producers use ecological structures and landscape elements, e.g. dry stone walls, natural ponds, insect hotels, nesting boxes, flowering areas, trees or hedges. By revitalising the marginal strips, they create habitats for birds, insects and plants.
They do this quite successfully: our orchards are home to between 25 and 50 different plant species.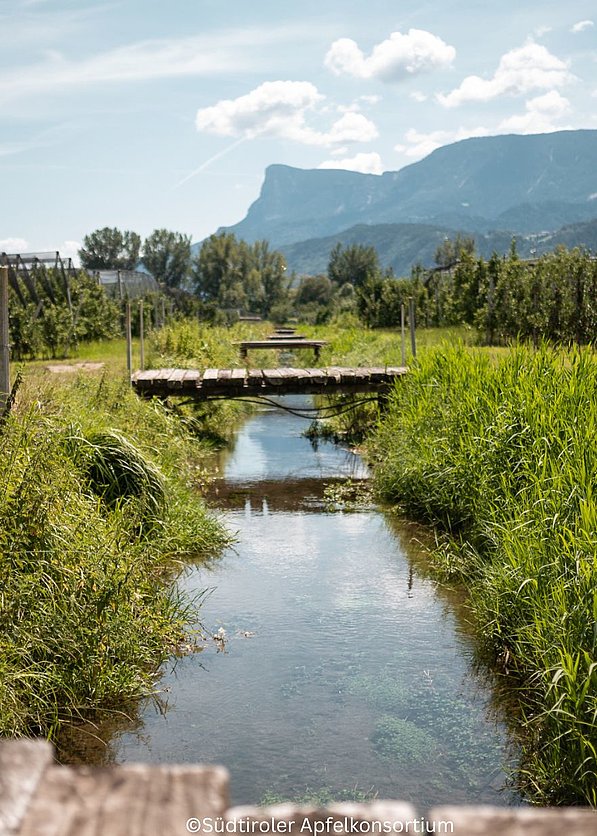 The most important measures and results at a glance:
The "Schneewinkel" project, an apple-growing zone in the Vinschgau Valley, specifically promotes biodiversity. In the approximately 70-hectare area, the presence of birds, bats, butterflies and flying insects is checked. The project, which started in 2019, is based on a partnership between the Vinschgau producers' organisation VIP, the Eurac research centre, the Advisory Counsel for fruit and wine growing and the Laimburg Research Centre.
Healthy soils: More than 4,000 soil animals live on one square metre of Val Venosta fruit orchards - according to the SoidDiv survey by Eurac and the University of Innsbruck.
In the biodiversity monitoring, the Institute for Alpine Environment at Eurac is examining a total of 20 orchard areas for their biodiversity (10 with organic and 10 with integrated cultivation methods).
In many places, pest control is done as naturally as possible - by releasing ichneumon wasps, for example, to combat the marmorated stink bug.
Functional agro-biodiversity is promoted as part of the Eco-Orchard project. This involved planting flowering strips in the tramlines to create a better habitat for ladybirds and lacewings. Wild carrot, yarrow, brown knapweed, red clover and horn clover have proved to be particularly successful species. The beneficial insects help to regulate pests and thus the use of plant protection products is reduced.
Selected ecology advisors are available to assist producers with biodiversity measures; numerous further training courses and field visits on the subject are offered.
The partner network "Sustainapple" also focuses on biodiversity, targeting projects and measures such as a hedge programme, the extended use of nesting boxes and the promotion of the use of beneficial insects.
MEHR ERFAHREN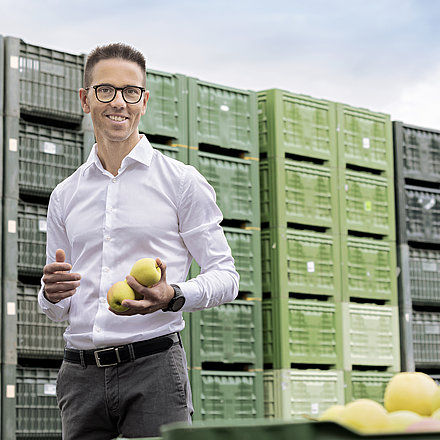 Sustainability
"Organic apple juice is no longer a niche"
South Tyrol has been the largest organic apple supplier in Europe for many years. That is why the quantities delivered to the fruit processor VOG Products have more than tripled in three years.
MEHR ERFAHREN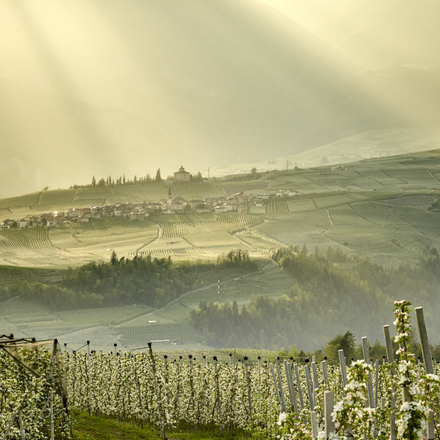 Sustainability
EcoVadis Silver for VOG Products
EcoVadis rewarded the sustainability efforts of VOG Products with a silver medal.