Bioland is more than EU organic
Four out of five of the organic apples processed by VOG Products come from the cultivation of around 600 Bioland farmers in South Tyrol. Bioland goes beyond the minimum requirements of the EU organic regulation and focuses not only on healthy organic products, but also on additional aspects such as circular economy, soil health and biodiversity. With the new Bioland Biodiversity Guideline, South Tyrolean Bioland producers are now setting new standards in nature conservation.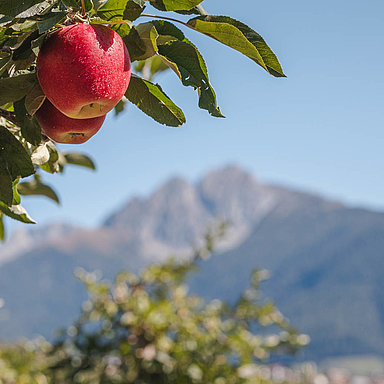 ©Südtiroler Apfelkonsortium
Bioland Südtirol was founded in 1991 by a handwritten contract of 10 fruit growers in order to organise themselves in an association and to orientate their agricultural production according to Bioland criteria. Today, the South Tyrolean association is the third largest regional association in the large Bioland family, with around 1,000 members from all the main areas of operation (fruit growing, livestock farming, viticulture, vegetable growing, agriculture, beekeeping and special crops).
What distinguishes Bioland? "Bioland is more than EU organic," explain Martina Frapporti and Rudger Seidel, ecological advisor and fruit-growing coordinator of Bioland South Tyrol. The Bioland Association is organised under private law. The EU Regulation on organic production (848/2018) serves as a basis, but Bioland members adhere to additional and stricter guidelines of their own. Choosing organic means saying no to genetic engineering, factory farming, synthetic chemical nitrogen fertilisers and pesticides. Bioland farmers additionally stand for even stricter standards, such as whole-farm conversion, a biodiversity guideline, a more limited use of copper (3kg/hectare/year) and the exclusive use of concentrated feed from Bioland production.
"In contrast to EU organic, Bioland only accepts whole-farm conversion to the Bioland standards. Partial conversions are not accepted after the conversion period has expired," says Frapporti. The background is clear: Bioland stands for a value system that applies to the entire agricultural enterprise, not just to sub-areas. The producers rely on seven principles (see box).
New Bioland Biodiversity Guideline
South Tyrolean Bioland producers are currently converting to the new Bioland Biodiversity Guideline. In the process, all producers must meet a minimum level of biodiversity performance in order to be allowed to use the Bioland brand. The data is collected and finally scored on the basis of the data collection sheet "Lebensraum Landwirtschaft" (ELLA). "Scoring ensures that there can be different solutions for biodiversity measures depending on the farm. Every agricultural area is an ecosystem that is influenced by farm decisions," explains Frapporti. "The objective is always to create a balance - there are no standard solutions for all farms. Our advice is therefore also very individual," adds Seidel.
Bioland Südtirol is the political representative for its members in South Tyrol and supports producers with conversion advice, expert advice on ecology and further training. Field inspections, workshops and the annual conversion courses are organised.
The control for compliance with the Bioland standards is made in addition to the standard organic control, which is carried out by independent and recognised control bodies.
By the way, not only the producers - also processing companies like VOG Products - have the Bioland certification. Strict guidelines apply to processors, such as adhering to clear product labelling or preventing contamination by harmful substances and residues. In accordance with the HACCP concept, there is a programme for systematic testing for harmful substances. Last but not least, VOG Products as a processor ensures that raw material suppliers can be identified at any time (traceability).
Note: In addition to Bioland organic produce, VOG Products also processes Demeter and Naturland produce in the organic sector.
The 7 Bioland principles
Promote circular economy
Promote soil fertility
Keeping animals species-appropriate
Produce healthy food
Promote biodiversity
Preserve the natural foundations of life
Securea future worth living for people