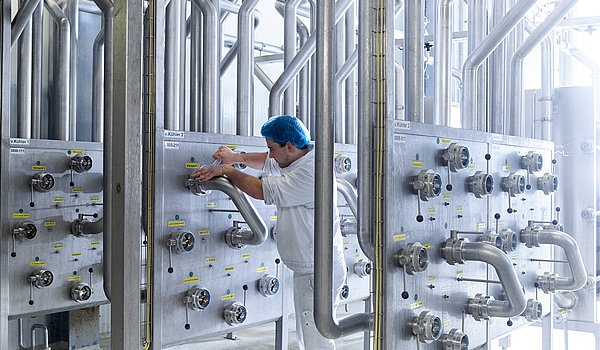 Learning from the bottom up
Alex Pernstich is a trained fruit juice technician and is currently undergoing further training to become a "certified industrial foreman - specialising in food". A portrait of a young VOG Products employee who learned from the ground up how to produce apple juice like a master.
Take a measuring cup each of physics, mathematics and chemistry, mix in a spoonful of technical know-how, season with ambition and determination and decorate it with a little love of sweet fruit. The result is a profession in the food sector that is as rare as it is versatile: fruit juice technician. Alex Pernstich is a trained fruit juice technician and one of the few South Tyroleans who is also training to become a certified industrial foreman specialising in food. The 25-year-old is responsible for production planning and works directly with the VOG Products plant manager. The company, based in Laives, is the largest fruit processing company in the region, consisting of 17 member cooperatives and three producer organisations from South Tyrol and Trentino.
Step 1: Training as a fruit juice technician
Alex's enthusiasm for apples developed at VOG Products. The graduate of the agricultural college in Auer gladly accepted the company's offer to complete the apprenticeship as a fruit juice technician in Geisenheim, Germany. The three-year training programme takes place in block lessons and teaches basic knowledge for the production of fruit and vegetable juices as well as concentrates and other fruit products, but also focuses on important subjects such as quality assurance and control, hygiene or environmental protection. "The very exciting part of the course took place in the laboratory and in the training rooms at the University of Geisenheim," recalls Alex. There, the prospective fruit juice technicians learn in practice how a quality product is made. Which enzymes influence the fruit in which way. How much fining products are used and at what temperatures, so that the juice does not become cloudy during storage. How can the shelf life of fruit juice be optimised. These are only three of many subjects that are dealt with in the practical lessons.
"Each fruit and each variety is processed differently in order to obtain an optimally refined product," says Alex Pernstich, describing the complexity of the subject. One would think that his focus of interest during the training would have only been on apples because of his South Tyrolean origin. But that's not true. "The apples from around 6,000 fruit growers in the region make up the largest share of the raw material processed by VOG Products. But we also process pears, kiwis, peaches, apricots and cherries into juices, concentrates and purees." That is why it was important for him to get to know a wide range of fruits and products during his apprenticeship.
Step 2: Training as an industrial foreman
The more Alex Pernstich immersed himself in the subject, the greater his desire to take the next step. VOG Products made it possible for him to train as a "certified industrial foreman – specialising in food", which takes place in Gräfelfing (near Munich). Beside insights into product and technical know-how, Alex now also learns how to run a company, human resources management, business administration and process optimisation. "It is a 360-degree education," says Alex Pernstich.
Today, Alex is responsible for production planning. With the aim of driving the company forward economically, he is also intensively involved in the areas of innovation, digitisation and automation and has therefore taken on the technical project management of the implementation of a smart factory system, for example.
The international food and beverage industry of global market size is among VOG Products' customers, and they are an important, and also demanding, buyer of quality products. This challenge "and the fact of holding a healthy and tasty product in your hands at the end of a complex work process" is a big motivation for Alex Pernstich in his job.
The apprenticeship in brief
The apprenticeship to become a fruit juice technician in Geisenheim in the Rheingau lasts three years - with monthly block classes and a lot of practice at the University of Geisenheim. Participants learn all the important steps for producing fruit and vegetable juices, fruit preparations and fruit drinks.
In contrast, the apprenticeship to become a "Certified industrial foreman - specialising in food" takes two years. The interdisciplinary basic qualification takes place in thirteen attendance sessions of 5 days each and the action-specific qualification in three blocks of approx. 1.5 months each. The industrial foreman course also prepares participants for specialist, organisational and management tasks in companies.