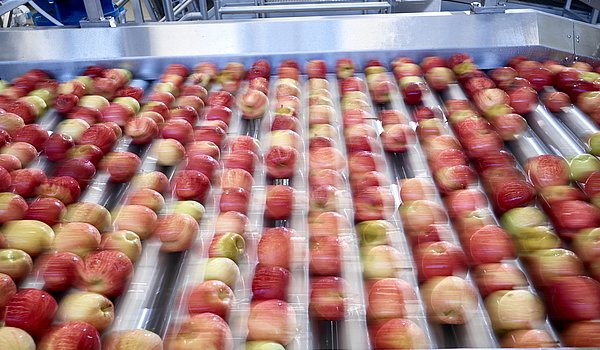 How puree is produced
Puree is an increasingly important product at VOG Products. The reason is the high demand: International customers in the baby food and smoothies sector rely on puree, as our highest quality raw material without pesticide residues is continiously available and as we can offer high-tech processing and storage possibilities. Leading baby food manufacturers appreciate completely residue-free products, meaning that primarily organic products from members in South Tyrol and Trentino are used.
The quality of the raw material counts
Organic or conventionally grown - in any case, the delivered fruit must be rot-free and must not have any deep indentations. The size of the fruit is not important, however the ripeness and consistency are. Aside from apple puree, for which a well-matured Golden Delicious is best, VOG Products also produces pear, peach, apricot and kiwi puree. Therefore, a strict quality control takes place before processing. Under certain circumstances, the fruits still have to ripen at the factory.
The individual steps
Unlike solid pack apples, which are peeled before being heated, pureed fruits are first showered after the bulk boxes are emptied. After the high-pressure cleaning, a coarse sieving takes place, during which stems, peels and cores are sieved out. During the "hot break", the pulp is briefly heated to deactivate the enzymes and thus prevent discolouration of the puree, while at the same time preserving healthy ingredients and aroma. The subsequent fine straining is done with heat, depending on the customer's preference. Some products, for example for small children, have to be very finely strained, others less. Finally, the puree is pasteurised and filled into drums or cans or stored in tanks that are completely free of germs and from there transported directly to the customer by truck.